P.O.BOX 26 January Tuesday 11, 1994. RVI RADIO VLAANDEREN INTERNATIONAAL(ベルギー)
RVI RADIO VLAANDEREN INTERNATIONAAL(ベルギー)
P.O.BOX 26 January Tuesday 11, 1994
RVI
RADIO VLAANDEREN INTERNATIONAAL
Brussels Calling
To be a member of our International Listener's Club ask for an application form and send us two reception reports per month, giving details on one or more of our five foreign language programmes. You then receive a Club Echo and our QSL cards.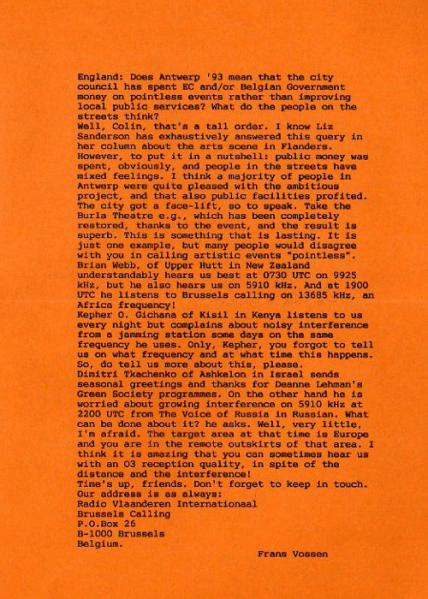 P.O.BOX 26
January Tuesday 11, 1994.
Hello, welcome to another letter—answering session. I would like to begin with an audio cassette sent to us by Pierre Hanssens of Montreal, Canada.
Pierre is an old friend of ours and has visited us on several occasions. That is when he comes to Belgium to see his family at Vilvoorde near Brussels. Pierre emigrated to Canada after World War II. Thank you very much for the recordings in November of "Brussels Ca1ling" and "Ici Bruxelles" on 17555 kHz, Pierre, although you will realise that your parcel took a long time to arrive on my desk. Pierre's cassette clearly illustrates at times severe interference from the Catholic station WEWN out of Birmingham, Alabama. Their frequency is 17510 kHz but it comes out on 17540, 17555, 17560, 17570 and even 17595 kHz, Pierre writes.
Joe Marcyan of Westtown, New York Says he heard us on 17555 kHz with straight 5's across the board on the SINPO system. It was as clear as any of the local stations, he writes. Yes, but that was at the end of November. And, as we said, there is sometimes interference. Albert Dukes e.g., who lives in winnsboro, South Carolina reports interference on 17560 kHz caused by a station he believes to be Deutsche Welle.
Many other listeners in North America tune in to our broadcast at 00.30 UTC on 7370 kHz, like Terry Roh of Pittsburgh. Terry recently bought a short wave receiver and got back into the thrill and enjoyment of Dxing. He first heard us in November on 7370 kHz and was pleasantly surprised by the overall 4 quality of the signal.
This brings me to the letter of R.w. Gallloway of Carnforth in Lancashire, England. He wants to join our Listeners'C1ub but is "in a bit of a quandary on how to fill in the reception reports". He knows that we need the contents of at least two of our programmes a month, but, he wonders "to what detail do the reports have to be, and also how do we your listeners explain the reception as it varies from day to day?" Don't you worry too much about that, Mr Galloway, just give us a few details as proof that you listened to our programme. The subject of the different items should be more than enough. And reception conditions on the day you listened to us. As for your other question: the weather forecasts in Belgium, at least the ones we use at BRTN radio and television are compiled by the KMI, the Koninklijke Meteorologisch Instituut, the Royal Meteorological Institute, at Ukkel near Brussels. Also in the UK we thank Mr J.Gardner of Edentown in Scotland for his card and best wishes. The same goes for Ruth Forrest of East-Kilbride in Scotland.
Here is a question from Colin King in Huntingdon, England: Does Antwerp '93 mean that the city council has spent EC and/or Belgian Government money on pointless events rather than improving local public services? what do the people on the streets think?
Well, Colin, that's a tall order. I know Liz Sanderson has exhaustively answered this query in her column about the arts scene in Flanders. However, to put it in a nutshell: public money was spent, obviously, and people in the streets have mixed feelings. I think a majority of people in Antwerp were quite pleased with the ambitious project, and that also public facilities profited. The city got a face—lift, so to speak. Take the Burla Theatre e.g., which has been completely restored, thanks to the event, and the result is superb. This is something that is lasting. It is just one example, but many people would disagree with you in calling artistic events "pointless".
Brian webb, of Upper Hutt in New Zealand understandably hears us best at 0730 UTC on 9925 kHz, but he also hears us on 5910 kHz. And at 1900 UTC he listens to Brussels calling on 13685 kHz, an Africa frequency!
Kepher 0. Gichana of Kisil in Kenya listens to us every night but complains about noisy interference from a jamming station some days on the same frequency he uses. Only, Kepher, you forgot to tell us on what frequency and at what time this happens. So, do tell us more about this, please.
Dimitri Tkachenko of Ashkelon in Israel sends seasonal greetings and thanks for Deanne Lehman's Green Society programmes. On the other hand he is worried about growing interference on 5910 kHz at 2200 UTC from The Voice of Russia in Russian. what can be done about it? he asks. well, very little, I'm afraid. The target area at that time is Europe and you are in the remote outskirts of that area. I think it is amazing that you can sometimes hear us with an O3 reception quality, in spite of the distance and the interference!
Time's up, friends. Don't forget to keep in touch.
Our address is as always:
Radio Vlaanderen Internationaal
Brussels Calling
P.O.Box 26
B-1000 Brussels
Belgium.
Frans Vossen
スポンサーサイト