各種ガイドブック、案内など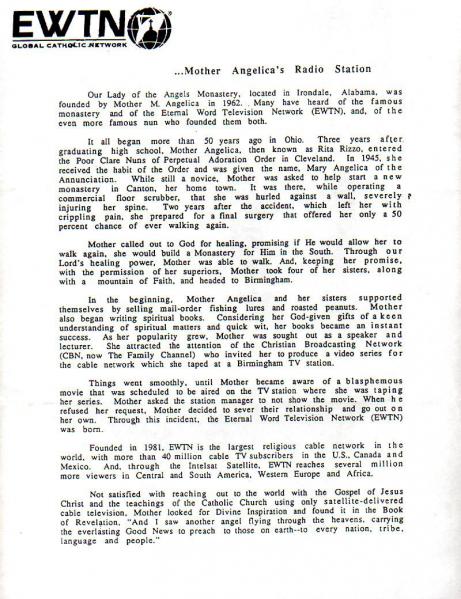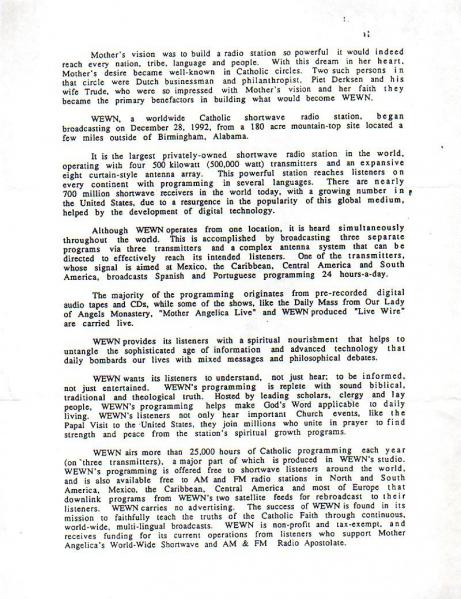 EWTN
GLOBAL CATHOLIC NETWORK
...Mother Angelica's Radio Station
Our Lady of the Angels Monastery, located in Irondale, Alabama, was founded by Mother M. Angelica in 1962. _Many have heard of the famous monastery and of the Eternal Word Television Network (EWTN), and, of the even more famous nun who founded them both.
It all began more than 50 years ago in Ohio. Three years after graduating high school, Mother Angelica, then known as Rita Rizzo, entered the Poor Clare Nuns of Perpetual Adoration Order in Cleveland. In 1945, she received the habit of the Order and was given the name, Mary Angelica of the Annunciation. While still a novice, Mother was asked to help start a new monastery in Canton, her home town. It was there, while operating a commercial floor scrubber, that she was hurled against a wall, severely injuring her spine. Two years after the accident, which left her with crippling pain, she prepared for a final surgery that offered her only a 50 percent chance of ever walking again.
Mother called out to God for healing, promising if He would allow her to walk again, she would build a Monastery for Him in the South. Through our Lord's healing power, Mother was able to walk. And, keeping her promise, with the permission of her superiors, Mother took four of her sisters, along with a mountain of Faith, and headed to Birmingham.
In the beginning, Mother Angelica and her sisters supported themselves by selling mail—order fishing lures and roasted peanuts, Mother also began writing spiritual books. Considering her God-given gifts of a keen understanding of spiritual matters and quick wit, her books became an instant success. As her popularity grew, Mother was sought out as a speaker and lecturer. She attracted the attention of the Christian Broadcasting Network (CBN, now The Family Channel) who invited her to produce a video series for the cable network which she taped at a Birmingham TV station.
Things went smoothly, until Mother became aware of a blasphemous movie that was scheduled to be aired on the TV station where she was taping her series. Mother asked the station manager to not show the movie. When he refused her request, Mother decided to sever their relationship and go out on her own. Through this incident, the Eternal Word Television Network (EWTN) was born.
Founded in 1981, EWTN is the largest religious cable network in the world, with more than 40 million cable TV subscribers in the U.S., Canada and Mexico. And, through the Intelsat Satellite, EWTN reaches several million more viewers in Central and South America, Western Europe and Africa.
Not satisfied with reaching out to the world with the Gospel of Jesus Christ and the teachings of the Catholic Church using only satellite-delivered cable television, Mother looked for Divine Inspiration and found it in the Book of Revelation, "And I saw another angel flying through the heavens, carrying the everlasting Good News to preach to those on earth--to every nation, tribe, language and people."
Mother's vision was to build a radio station so powerful it would indeed reach every nation, tribe, language and people. With this dream in her heart, Mother's desire became well-known in Catholic circles. Two such persons in that circle were Dutch businessman and philanthropist, Piet Derksen and his wife Trude. who were so impressed with Mother's vision and her faith they became the primary benefactors in building what would become WEWN.
WEWN, a worldwide Catholic shortwave radio station, began broadcasting on December 28, 1992, from a 180 acre mountain-top site located a few miles outside of Birmingham, Alabama.
It is the largest privately-owned shortwave radio station in the world, operating with four 500 kilowatt (500,000 watt) transmitters and an expansive eight curtain-style antenna array. This powerful station reaches listeners on every continent with programming in several languages. There are nearly 700 million shortwave receivers in the world today, with a growing number in the United States, due to a resurgence in the popularity of this global medium, helped by the development of digital technology.
Although WEWN operates from one location, it is heard simultaneously throughout the world. This is accomplished by broadcasting three separate programs via three transmitters and a complex antenna system that can be directed to effectively reach its intended listeners. One of the transmitters, whose signal is aimed at Mexico, the Caribbean, Central America and South America, broadcasts Spanish and Portuguese programming 24 hours-a-day.
The majority of the programming originates from pre-recorded digital audio tapes and CDs, while some of the shows, like the Daily Mass from Our Lady of Angels Monastery, "Mother Angelica Live" and WEWN produced "Live Wire" are carried live.
WEWN provides its listeners with a spiritual nourishment that helps to untangle the sophisticated age of information and advanced technology that daily bombards our lives with mixed messages and philosophical debates.
WEWN wants its listeners to understand, not just hear; to be informed, not just entertained. WEWN's programming is replete with sound biblical, traditional and theological truth. Hosted by leading scholars, clergy and lay people, WEWN's programming helps make God's Word applicable to daily living. WEWN's listeners not only hear important Church events, like the Papal Visit to the United States, they join millions who unite in prayer to find strength and peace from the station's spiritual growth programs.
WEWN airs more than 25,000 hours of Catholic programming each year (on three transmitters), amajor part of which is produced in WEWN's studio. WEWN's programming is offered free to shortwave listeners around the world, and is also available free to AM and FM radio stations in North and South America, Mexico, the Caribbean, Central America and most of Europe that downlink programs from WEWN's two satellite feeds for rebroadcast to their listeners. WEWN carries no advertising. The success of WEWN is found in its mission to faithfully teach the truths of the Catholic Faith through continuous, world-wide, multi-lingual broadcasts. WEWN is non-profit and tax-exempt, and receives funding for its current operations from listeners who support Mother Angelica's World-Wide Shortwave and AM & FM Radio Apostolate.
スポンサーサイト
0