RVI RADIO VLAANDEREN INTERNATIONAAL 29.05.94
RVI RADIO VLAANDEREN INTERNATIONAAL(ベルギー)
Brussels Calling
29.05.94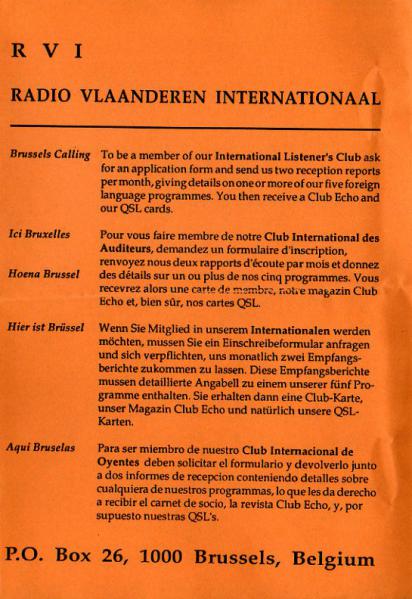 RVI
RADIO VLAANDEREN INTERNATIONAAL
Brussels Calling
To be a member of our International Listener's Club ask for an application form and send us two reception reports per month, giving details on one or more of our five foreign language programmes. You then receive a Club Echo and our QSL cards.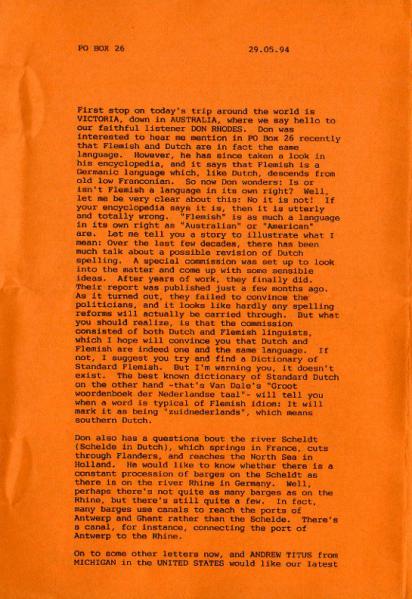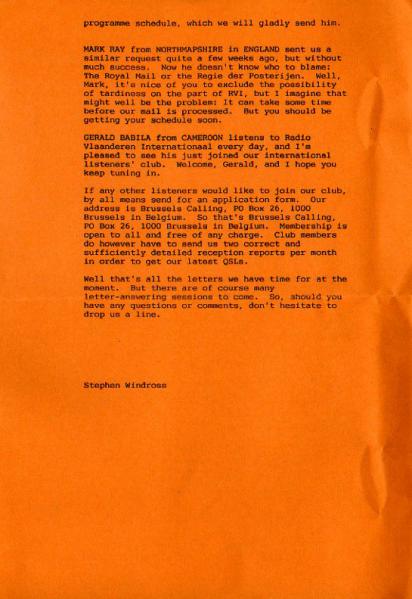 PO BOX 26
29.05.1994
First stop on today's trip around the world is VICTORIA, down in AUSTRALIA, where we say hello to our faithful listener DON RHODES. Don was interested to hear me mention in PO Box 26 recently that Flemish and Dutch are in fact the same language. However, he has since taken a look in his encyclopedia, and it says that Flemish is a Germanic language which, like Dutch, descends from old low Franconian. So now Don wonders: Is or isn't Flemish a language in its own right? Well, let me be very clear about this: No it is not! If your encyclopedia says it is, then it is utterly and totally wrong. "Flemish" is as much a language in its own right as "Australian" or "American" are. Let me tell you a story to illustrate what I mean: Over the last few decades, there has been much talk about a possible revision of Dutch spelling. A special commission was set up to look into the matter and come up with some sensible ideas. After years of work, they finally did. Their report was published just a few months ago. As it turned out, they failed to convince the politicians, and it looks like hardly any spelling reforms will actually be carried through. But what you should realize, is that the commission consisted of both Dutch and Flemish linguists, which I hope will convince you that Dutch and Flemish are indeed one and the same language. If not, I suggest you try and find a Dictionary of Standard Flemish. But I'm warning you, it doesn't exist. The best known dictionary of Standard Dutch on the other hand -that's Van Dale's "Groot woordenboek der Nederlandse taal"— will tell you when a word is typical of Flemish idiom: It will mark it as being "zuidnederlands", which means southern Dutch.
Don also has a question about the river Scheldt (Schelde in Dutch), which springs in France, cuts through Flanders, and reaches the North Sea in Holland. He would like to know whether there is a constant procession of barges on the Scheldt as there is on the river Rhine in Germany. well, perhaps there's not quite as many barges as on the Rhine, but there's still quite a few. In fact, many barges use canals to reach the ports of Antwerp and Ghent rather than the Schelde. There's a canal, for instance, connecting the port of Antwerp to the Rhine.
On to some other letters now, and ANDREW TITUS from MICHIGAN in the UNITED STATES would like our latest programme schedule, which we will gladly send him.
MARK RAY from NORTHMAPSHIRE in ENGLAND sent us a similar request quite a few weeks ago, but without much success. Now he doesn't know who to blame: The Royal Mail or the Regie der Posterijen. Well, Mark, it's nice of you to exclude the possibility of tardiness on the part of RVI, but I imagine that might well be the problem: It can take some time before our mail is processed. But you should be getting your schedule soon.
GERALD BABILA from CAMEROON listens to Radio Vlaanderen Internationaal every day, and I'm pleased to see his just joined our international listeners' club. Welcome, Gerald, and I hope you keep tuning in.
If any other listeners would like to join our club, by all means send for an application form. Our address is Brussels Calling, PO Box 26, 1000 Brussels in Belgium. So that's Brussels Calling, PO Box 26, 1000 Brussels in Belgium. Membership is open to all and free of any charge. Club members do however have to send us two correct and sufficiently detailed reception reports per month in order to get our latest QSLs.
Well that's all the letters we have time for at the moment. But there are of course many letter—answering sessions to come. So, should you have any questions or comments, don't hesitate to drop us a line.
Stephen Windross
スポンサーサイト